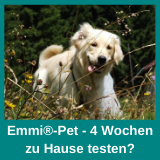 Many of Emmi Pet's prospects have asked us if we can't make a test possible?
There are different reasons for this, e.g.
Can my dog or cat tolerate the Emmi Pet?
Does my dog or cat brush their teeth?
Is it worth the investment (I can assure you – every euro?) ?
and and and
With this, you are in peace to have tested the compatibility, acceptance and effect, we have put together a test offer for you:
For the 4-week trial period we charge a small flat rate. This covers the costs, including shipping, use and consumables for the test. At the end of the period, we will discuss whether you will keep them or continue to use them.
If you continue to use this, as I assume from experience, we will credit you with the test flat-rate on a pro-rata basis on top of the regular price according to the Emmi Ultrasonic website.
If you are interested, please contact us by e-mail with your name and telephone number so that we can vote on everything else.